THE ROTARYITE

Issued by the Rotary Club

of Morrisville, PA

Club No. 3435 Chartered Jan. 30 1928

Meets Thursdays, 6:15 P.M.

Michael's Restaurant

Unless announced otherwise

Vol 70 No 3

April 16, 2013
---
EDITOR'S MESSAGE
Enjoy the read - and the pictures. Get caught up and be reminded of what has been going on - the fun times, the service projects, the excellent dinner speakers.
See Web Site Calendar for Upcoming Events
Highlights: Morrisville Carnival (May 14-19, Williamson Park), Gourmet Breakfast (May 18, 8-11 AM, Morrisville United Methodist Church), Yardley Beer Fest Booth (May 18, 1-5 PM, Yardley Borough), Hot dog tent at the Canal Festival in Morrisville (June 22, 1-4 PM), Yardley and Morrisville Landmark Towns Sign Project, Participant in Delaware Canal Cleanup, Support of Grandview School Garden Project.
Chaplain's Corner - Big E
God's promises to give us our daily bread. He doesn't guarantee it will be buttered.
"Behold I am with you and will keep you wherever you go, and will bring you back to this land; for I will not leave you until I have done what I have spoken to you." Genesis 28:15

Programs - Andy Thompson
See website calendar.
Who We Are and What We Do
New Members
The club welcomed two new members, Peter Knouse and Rob Scafidi. Pete is a Financial Advisor for Oppenheimer and Rob is the Senior District Executive of the Playwicki District of the Boy Scouts of America. More information will be forthcoming after they give their Classification talks!
Werner Berger, "The Everest Man", Named a Paul Harris Fellow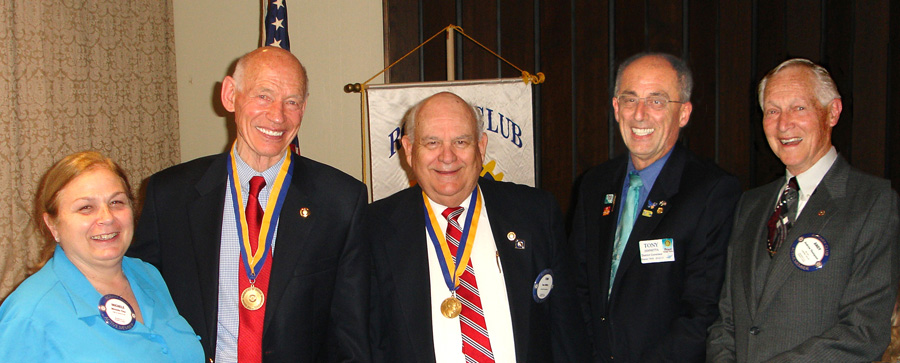 Werner Berger (second from left), the "The Everest Man", who lives in the Yardley Area with his wife, Heshie Segal, recently was made a Paul Harris Fellow to recognize his advocacy of good nutrition and exercise through his mountain climbing accomplishments. Werner is a role model particularly for the older generations, inasmuch as he is the oldest North American to have climbed Mt. Everest and the oldest person in the world to have climbed all Seven Summits, the highest peaks on each of the seven continents. The presentation was made by Rotarian Tom Miller, (center) and Rotary District Governor Tony Jannetta (second from right), along with Club President Michele Fina (left) and Rotarian Andy Thompson (right).
Other pictures from the gala evening: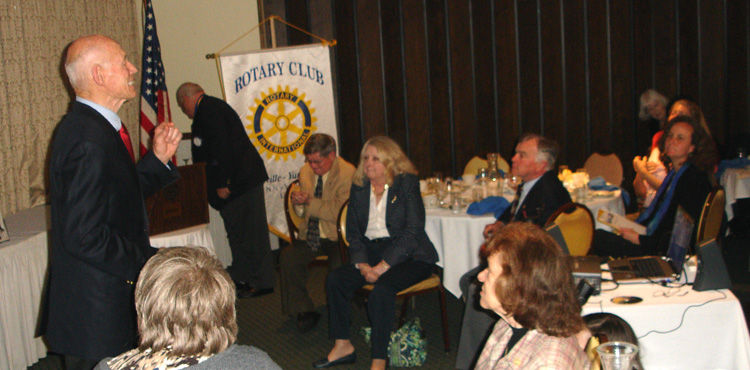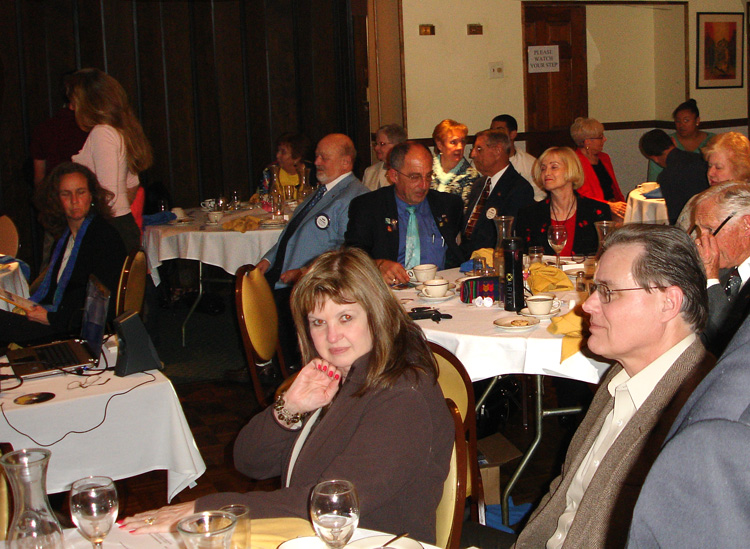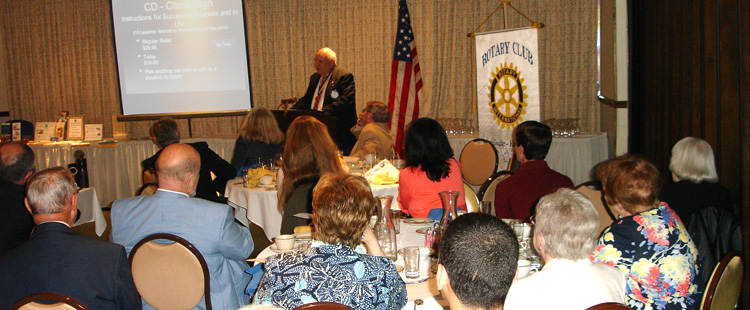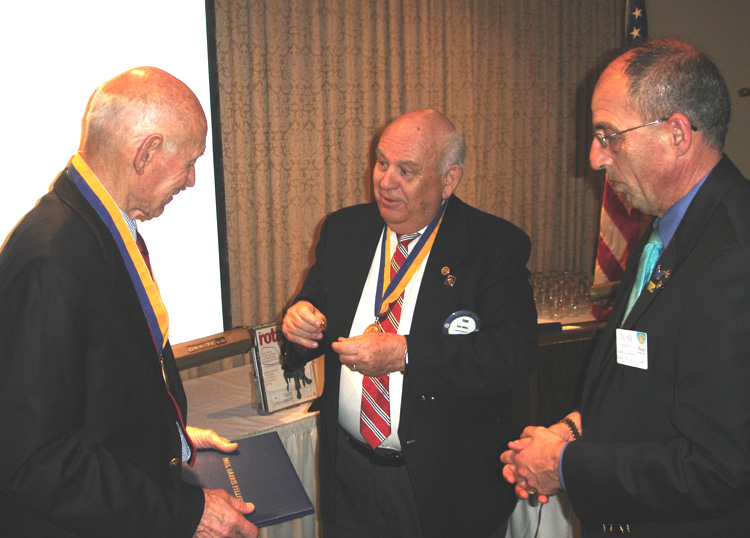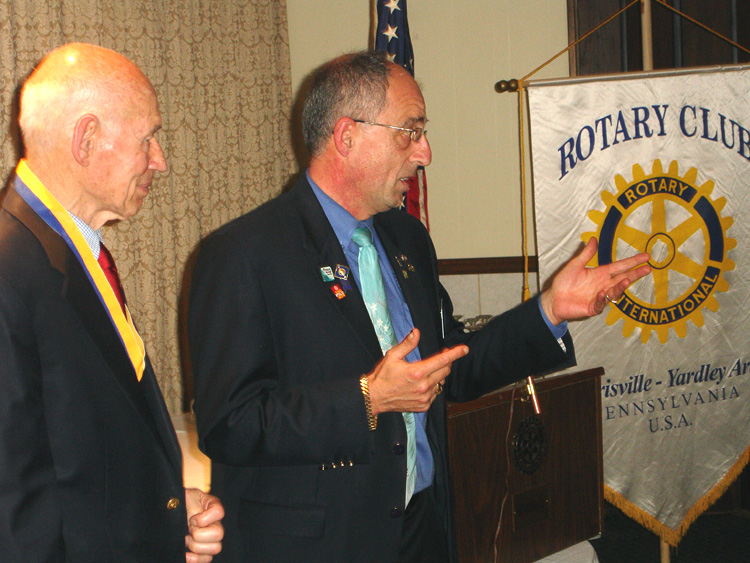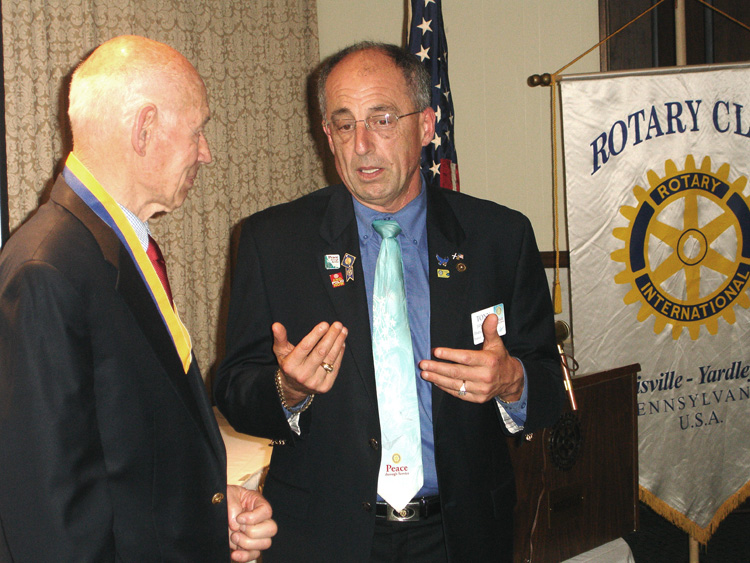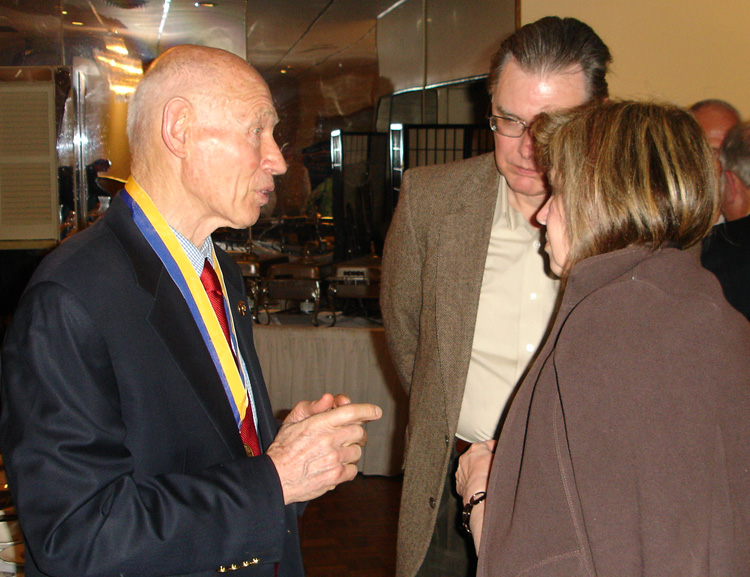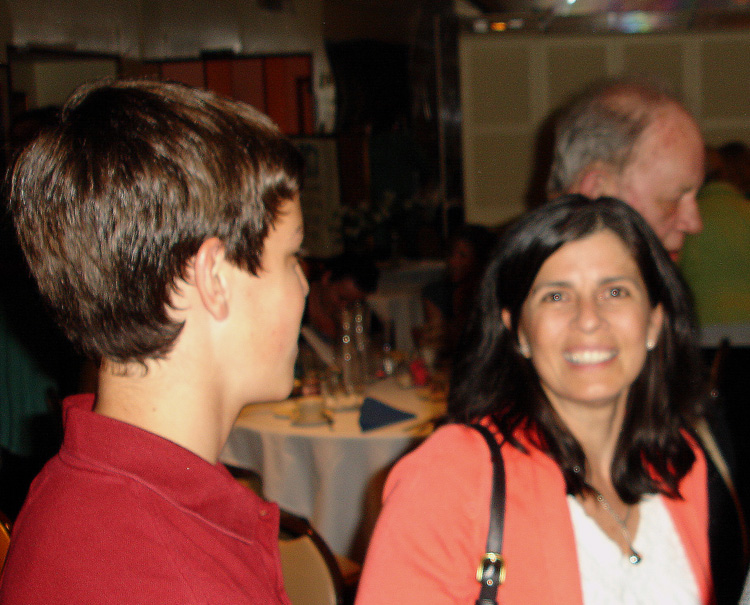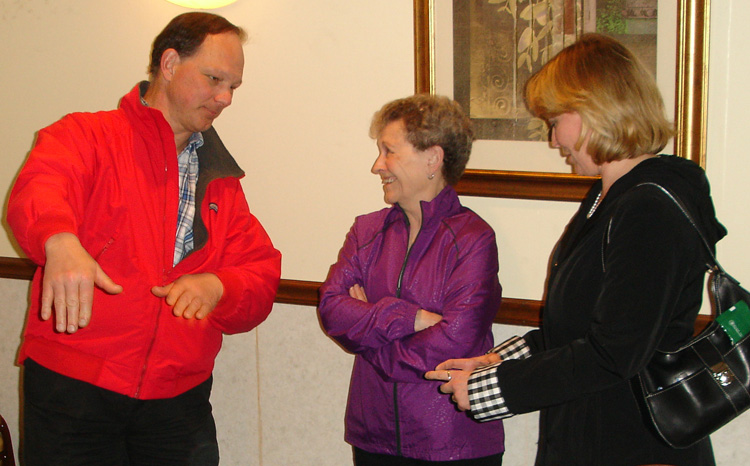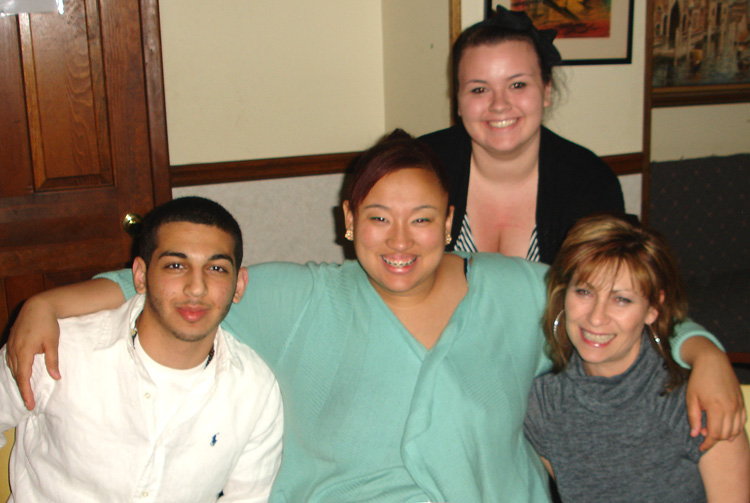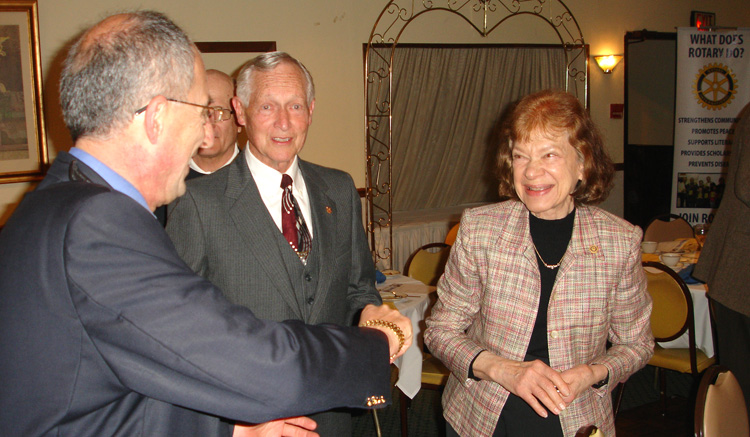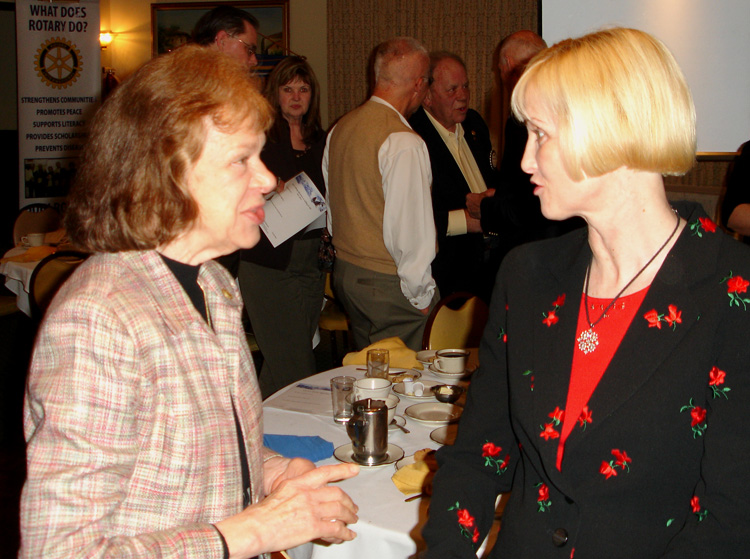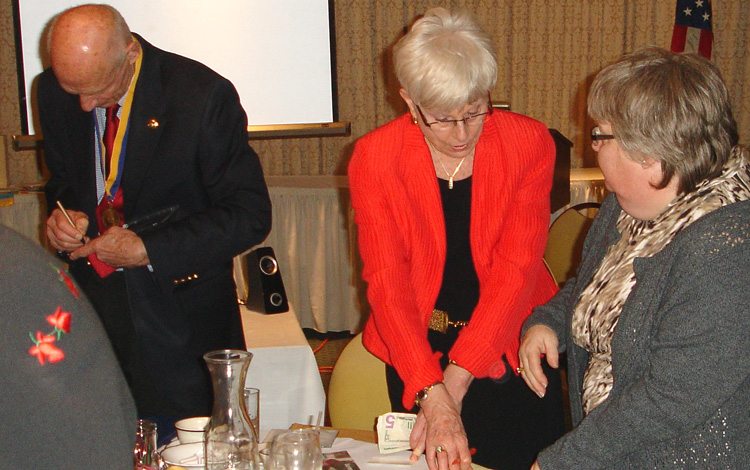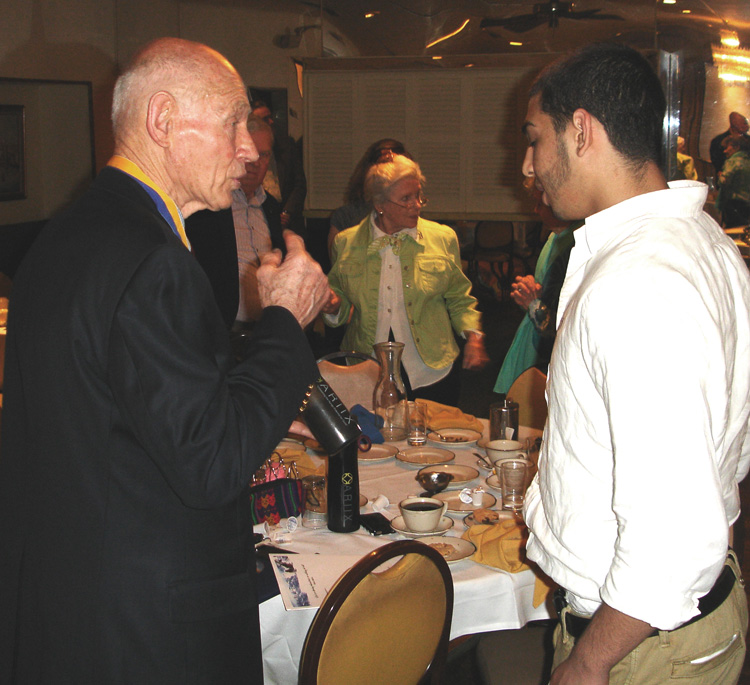 Area Scouting Leaders Recognized
The Annual Scouting Leaders Appreciation Dinner this year included representative local leaders of the Girl Scouts of Eastern Pennsylvania (GSEP), as well as representative leaders from the Boy Scout Playwicki District. (left to right) Robin Stelly (GSEP), Lew Mohr who has 50+ years in Scouting, Junior GSEP Leaders Charlotte Treibl & Margaret Zelin, (Boy Scouts:) Junior Leader Mason Kelly, Laura Foulds, Cheryl Hamm, Bob Ansel, Senior District Executive Rob Scafidi, and Wally Kelly, and Rotary Club President-elect Juan Proano.
Morrisville Community Easter Egg Hunt
Continuing its 70+ year tradition, the club conducted its annual Easter Egg Hunt in Williamson Park with assistance from the Morrisville High School Leadership Academy.
Volunteers for the Trenton Area Soup Kitchen
The club volunteers were organized several years ago by Rotarian and local builder, Tom Mack, who wasn't available on this particular day but other Rotarians included Dave Sample, Evelyn Fletcher, Ted Fletcher, Juan Proano, Big E Jennett and Hal Long.
Andy Thompson Helps Judge the District's SE Regional 4 Way Test Speech Contest
This is the third year that District 7430 has held the 4 Way Test speech competition. There are three regions in the district and Andy was one of the three judges for the SE Regional Contest which was held at Central Bucks South High School. Brendan Hopkins (Wissahickon High School) was declared the winner and will compete at the District Conference April 27th at Skytop.
Morrisville-Yardley Area Club Recognized at The Rotary Foundation Recognition Dinner
At the dinner, held March 20 at the North Penn Inn, the Morrisville-Yardley Area club was noted for being No. 3 out of 19 clubs in District 7430 that had $100 or more average per capita giving to the foundation plus 100% participation of its members (EREY) for Rotary year 2011-2012. The club's average giving was $244 per member, compared with No. 2 Hatboro at $249 and No.1 Emmaus at $284. Hal Long was recognized as a "Level I" Major Donor. (Tom Miller previously became a Level II Major Donor and a Benefactor.)
Valentines Party
Rotarians and their spouses and guests thoroughly enjoyed the annual Valentine's Day party. Many thanks to Andy Thompson for organizing the party and for the humorous poems that he had various people read. Thanks to Pete Wisnosky for the skit and to Michele Fina and Dave Sample for playing the cantankerous children. And thanks to Juan Proano for sharing a bit of Peruvian "culture" and to Joe Urbano and Hal Long for the songs.
Dinner Speakers
The recent impressive dinner speakers included:
Harold Mitchener (Historian: Bristol History)
Harold talked about the old days in Bristol and the key role it had as the transfer point for coal and other products coming from upper Pennsylvania by way of the Delaware Canal that were heading to Philadelphia and beyond. President Michele gave him a Robert Morris commemorative plate as a token of thanks.
Rodney Wagner (President, Plant Preservation, Inc.: Horticulture and Organics)
Rodney talked about how he got started in the plant preservation business and what is involved in saving and preserving older trees and shrubs that are important to the landscape. President Michele gave him a Robert Morris commemorative plate as a token of thanks.
Jim Rea (Financial Advisor, Crossgate Wealth Advisors: Planning in the Face of Government Policies and Uncertainties)
Jim talked about the factors that need to be considered when establishing a financial plan. President Michele gave him a Robert Morris commemorative plate as a token of thanks.
John Warenda (Executive Director, Morrisville Municipal Authority: Water and Sewage Treatment and Infrastructure)
John talked about the history and design of the water and sewage treatment plant Morrisville and its success in meeting all of the water quality standards and requirements. He noted that the infrastructure is showing its age and is a challenge to borough to maintain. Program Chair Andy gave him a Robert Morris commemorative plate as a token of thanks.
Joe and Cheryl Doyle (Founders, Actors'NET: Success and Goals)
Joe and Cheryl talked about their initial motivation to establish Actor'sNET in Morrisville, how the playhouse is organized, the success they have achieved over the years and the challenges they see for the future. They would like to find a way to appeal to more people in the Yardley-Makefield area for they see support from there does not seem to be in proportion to the population. Vice President Juan and Program Chair Andy gave them a Robert Morris commemorative plate as a token of thanks.
Rotarian Juan Proano (Mining Engineering Consultant: Update on Rotary's Peru Water Filter project)
Juan discussed his recent trip to Lima, Peru, when he met with some of the Rotarians of the Lima Sunrise Club, with which the Morrisville-Yardley Area club is partnering to provide needed water filters. He went to some of the areas where the filters have been delivered and are in use and saw firsthand how important the filters are to the health of the people in the shantytowns around Lima. Juan is making presentations to some of the local Rotary clubs in our District 7430 to raise another $30,000 through The Rotary Foundation Global Grant program. With this three-year program and the previous grants of $20,000, some 12,000 people will be benefiting from safe drinking and cooking water.
Robert Ziff (President, Avanti Benefits Corp.: Health Insurance Changes and Directions)
Robert talked about a number of coming changes, complications and issues in health care delivery that are the result of the Affordable Health Care Act. President Michele gave him a Robert Morris commemorative plate as a token of thanks.
Darletta Berry-Johnson (Program Director, 21st Century Community Learning Centers: Achievements and Directions)
Darletta noted that the Morrisville School District recently was awarded an additional nearly $1.5 million in federal funding for its successful program – the 21st Century Community Learning Centers – now in its eighth year. The current grant provides almost $500 thousand for each of three coming years and will fund after-school programs for elementary, middle and high school level students. Programs include a wide-range of clubs and activities to support and enhance student learning and development. Among the activities are academic enrichment, tutoring, mentoring, music, arts, sports and community service opportunities. These programs, she said, support academic success, positive youth development, prevention education and life skills and provide students and families in Morrisville with the opportunity to be a part of a supportive environment that allows them to develop appropriate social and academic skills. The federal grant program comes to Morrisville through the state Department of Education and as many as 1,000 students take part in the programs each year.